There has been an exponential increase in the number of content creators and users moving from the use of cell phones and Go Pros to higher-quality recording devices. This has created a higher demand for portable, quality sound. Two powerful microphones are the Shure VP83F and the Rode VideoMic Pro Plus. They both offer excellent features for recording. We will base our decision on user skill level as well as project needs.
Shure VP83F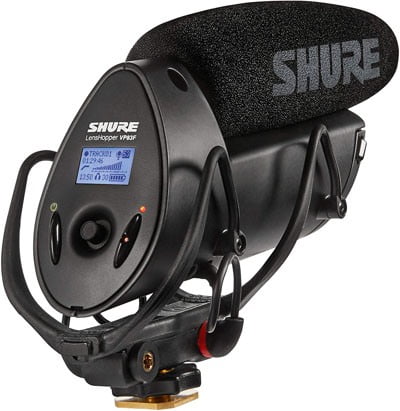 The Shure VP83F is a portable, versatile microphone. It offers high-definition audio for superb results with every use.
The VP83F comes equipped with an internal recorder. What this means is that it has a microphone preamp as well as an analog to digital converter. This allows the user to record 24bit .wav files onto an internal microSD card. Its design is perfect for users who want to record directly to their DSLR.
Its design is simple but sturdy with an all-metal body. Additionally, it sits in an integrated Rycote Lyre shockmount to prevent vibrations.
It is the first mic in its class to feature an integrated flash recorder. This means there is the potential to remove the need for an external recording device. It also features a 3.5 mm headphone output. With this, users can monitor their audio directly from the mic.
The LCD screen is backlit and provides a readout of several different parameters, including levels, low-cut filter status, gain level, and more. Users can navigate these parameters through the use of a 5-position joystick. Mic gain is adjustable up to 60 dB in 1-dB increments.
The controls on the VP83F are straightforward. Pressing record will begin recording while pressing it again will pause recording. It uses a single AA battery and operates for up to 125 hours.
The VP83F features two shotgun mics from the LensHopper series. They provide excellent quality. This mic provides track redundancy and in-depth features.
Rode VideoMic Pro Plus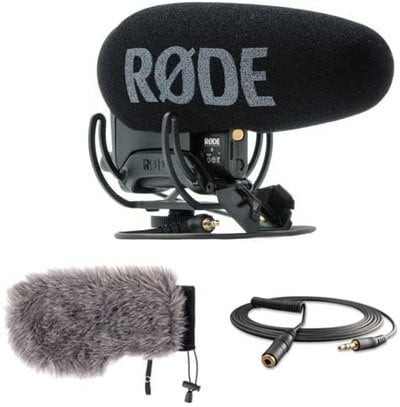 The VideoMic Pro Plus is another great portable microphone. It features the ability to be mounted to a camera and provides excellent recording results.
Both the Shure VP83F and the Rode VideoMic Pro Plus feature a vibration-preventing shockmount, which is critical to the elimination of unwanted noises from the camera in the sound recording. However, the VideoMic Pro Plus offers a wider gain range than the VP83F.
The Rode VideoMic Pro Plus features a low self-noise 14 dBA. It is excellent at picking up the sound from the direction it is pointed at while canceling all other noise. Users can either mount it to a camera or attach it to an optional boom pole.
Battery use is optional as there is the feature of continuous charging through the USB plug. It features a rechargeable lithium battery. There is a built-in door that allows for fast battery swapping when necessary. The lithium battery can be replaced with AA batteries in a pinch. The mic's physical battery is specified to have an operational life of up to 100 hours of recording time.
It uses a detachable 3.5 mm TRS cable. This allows users to replace the cable with a longer one as the need arises.
The microphone automatically powers on with your camera, detecting the majority of devices. All of its controls are digital, and it remembers its settings through power cycles. Its LED strength adjusts based on ambient lighting.
The VideoMic Pro Plus features a Rycote Lyre suspension. This provides physical isolation for the microphone. What this means is that vibrations and motor noises from the camera will not be able to creep into the sound recordings.
It features a range of 120 dB with a maximum of 134 dB. This allows for the recording of extremely loud noises as well as preventing the mic from overloading when used at close range.
Moreover, this mic features a safety audio channel. This records in parallel at a lower gain. What this means is that if the main audio has been corrupted, users will have the option to replace the bad parts with the safety audio through the use of editing software.
The VideoMic Pro Plus has a tight pickup pattern. It rejects the surrounding noise. It features high clarity and bright sounds.
Recommendation
Clearly, both microphones offer superior features. The Shure VP83F offers users the ability to mount the device to a camera or a boom, excellent battery life, and an easy-to-read LCD. We recommend this model for users who need to make very precise, professional recordings.
On the other hand, the VideoMic Pro Plus features a broader gain range, a safety audio channel, and a tight pickup pattern. We recommend this microphone for professionals.