If you are looking for a pair of headphones that have a full-range of motion with great comfort, Bluetooth wireless over-ear headphones may be for you. The Skullcandy Hesh 3 and the Sennheiser HD 4.40 are two great Bluetooth wireless headphone options, with a couple key differences you should know about. Let's take a look at both models and see which one might best fit your wireless headphone needs!
Skullcandy Hesh 3 Headphones
The Skullcandy Hesh 3 headphones are a comfortable, wireless Bluetooth headphone set that are suitable for all-day listening. These headphones have memory foam ear cushions with armatures that pivot, enabling you to achieve the most comfortable position for you. With a sleek design that folds in, these headphones are also great for travelling.
These headphones have an integrated analog amplifier, allowing the Skullcandy Hesh 3 to provide premium sound quality via its 40 mm audio drivers. An aux cable is included for corded use of the headphones. This allows the battery to recharge while you continue listening to your music, and allows you to use the headphones with any devices that don't have Bluetooth.
You can take phone calls through the Skullcandy Hesh 3, with the built-in microphone and voice notification software. You can also adjust your volume and switch songs with the controls on the headphones. The Skullcandy Hesh 3 is also noise isolating, meaning that you will have less ambient noise interruption and clearer phone calls or music.
With a full charge, your Skullcandy Hesh 3 headphones will have up to 22 hours of battery life. If you don't have much time, Rapid Charge is also available. With 10 minutes of rapid charge, you have 4 hours of battery life. At a normal charge rate, the headphones take about 2.5 hours to charge completely.
More features of the Skullcandy Hesh 3 Headphones:
Frequency response of 20 Hz to 20 kHz
Ideal Bluetooth usage within 33 feet of device or 10 meters
Sennheiser HD 4.40 Headphones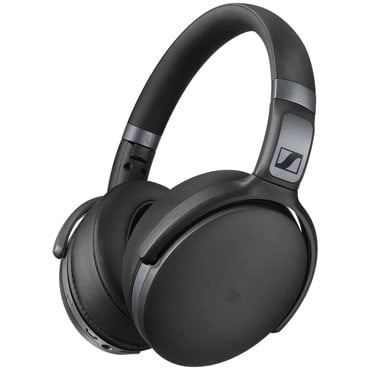 The Sennheiser HD 4.40 Bluetooth headphones provide comfortable all-day wear with soft leatherette ear pads. The headband folds in and the ear cups swivel for easy packing during trips, and the headphones look great with a minimalistic design. The Sennheiser HD 4.40 also utilizes Bluetooth aptX for optimal sound, and less audio to video synchronizing issues. For other devices, the Sennheiser HD 4.40 is also compatible with NFC.
These headphones provide dynamic bass, with drivers that deliver a balanced sound across all genres. Controls are mounted on the ear-cup for easy access, and they allow you to switch songs, adjust volume, and manage calls. The headphones include a microphone to make accepting and making phone calls easier.
To achieve maximum quality sound, the headphones fit snugly over the ears, applying gentle pressure. Adjusting the placement of the ear cups and the headband also optimizes sound quality further. For comfort, the ear cups are thick to help prevent ambient noise. These headphones do not have noise cancellation, however.
The Sennheiser HD 4.40 provides up to 25 hours of battery life for talk and music time. An aux cable is included with the headphones for wired, battery-free usage. For a complete charge, the Sennheiser HD 4.40 takes 2 hours to charge.
More features of the Sennheiser HD 4.40 headphones
Bluetooth 4.0 Version
Frequency Response of 18 – 22,000 Hz
Ideal Bluetooth usage within 33 feet or 10 meters
Recommendation
Both of these headphones, the Skullcandy Hesh 3 and the Sennheiser HD 4.40, have great sound quality and are comfortable for the wearer. If you prefer noise-isolating headphones with Rapid Charge capabilities, the Skullcandy Hesh 3 might be the best choice for you. If you would rather have Bluetooth aptX and NFC ability, as well as a couple more hours of battery life, the Sennheiser HD 4.40 may be a better option. Either way, both sets of headphones come with an aux cord for wired or wireless use, have phone call capabilities, and are comfortable for extensive use at a decent distance from your connected device.