If you need a product that can provide excellent music and fun while playing, you may enjoy a portable keyboard. Portable keyboards are excellent instruments to learn to play music with, as well as perform for others easily on. Yamaha and Casio offer two very similar portable keyboards that come with a few key differences you should know about. Let's take a look at both, and see which one would be the best fit for your needs!
Yamaha PSR-E263 Portable Keyboard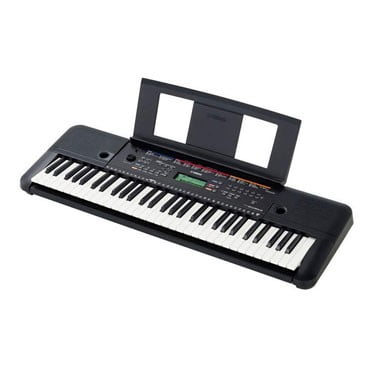 The Yamaha PSR-E263 portable keyboard comes with 61 keys, and has over 400 instrument voices for beginners and intermediate players alike. This product has keys that are full-sized, which can help new players develop their technique, as well as get used to the feeling of keyboards and pianos alike.
This product does not come with a power adapter, so this will have to be purchased separately if you would like one. Otherwise, this product works easily with batteries for a completely portable experience. This product also comes with an aux line input. This means that you can connect headphones, as well as other musical devices that feature a headphone output. This includes computers, mixers, MP3 players, and other instruments as well.
To make learning with the Yamaha PSR-E263 much easier, this product comes with Yamaha Education Suite. This software has over 100 songs on preset, so you or your child can begin learning songs quickly and easily.
The Yamaha PSR-E263 also comes with AWM stereo sampling for your convenience, as wellas tone generating technology. This product also comes with band backing tracks in real time, with 130 accompaniment styles. Duo Mode is also included, so you can play with a partner easily. The keyboard creates two middle C notes, allowing Duo Mode to work flawlessly.
More features of the Yamaha PSR-E263 Portable Keyboard
Weighs 11 pounds
37 by 12.5 by 4.2 inch dimensions
Casio CTK-2550 Portable Keyboard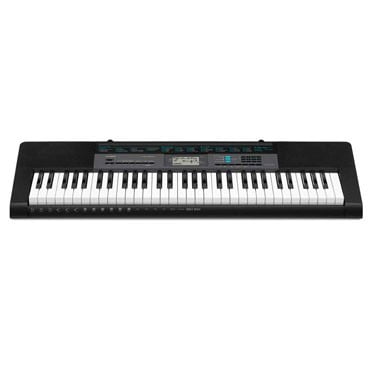 The Casio CTK-2550 portable keyboard comes with many of the same features as the previous product, including 61 full sized keys for your convenience. This product also comes with 400 separate tones, much like the previous product, to help you achieve a wide variety of musical sounds.
This product comes with 100 rhythms, as well as a dance music mode that comes with 50 separate rhythms, for 150 total different rhythms at your disposal. This product is also integrated with the Chordata Play app, which will assist you or your child in learning to play the keyboard.
This product also comes with polyphony for 48 notes, for your convenience. A built in keyboard teaching system called the Step-Up Lesson system accompanies this. This makes getting started with the keyboard and learning a lot faster, especially if you do not have access to the Chordata Play app. This teaching system features a scoring system, as well as fingering assistance via a voice guide.
Unlike the previous product, this product includes an AC adapter for your convenience. Otherwise, this product can utilize batteries for optimal portable performance, much like the former product could. The Casio CTK-2550 also allows you to connect headphones for quiet working or practicing with the keyboard.
More features of the Casio CTK-2550 Portable Keyboard
Weighs 7.28 pounds
37.2 by 12.1 by 3.6 inch dimensions
Recommendation
Keyboards are excellent for learning how to play an instrument easily and with a lot of fun. If you need a product that offers an aux line input for a variety of connection abilities, as well as Yamaha Education Suite, AWM stereo sampling, 130 accompaniment styles, and Duo Mode, then the Yamaha PSR-E263 may be the best keyboard for you. Alternatively, if you prefer a product that has 150 total rhythms, including dance music mode, with Chordata Play app integration, as well as 48 polyphony notes, Step-Up lesson system, and an AC adapter, then the Casio CTK-2550 portable keyboard may be the best choice for you. Both of these keyboards offer 61 full sized keys and a variety of sound qualities, making either a great choice for a new keyboard!