Closed back headphones provide you with an excellent experience when it comes time to engage with any of your favorite pastimes. Whether you're a music lover who wants to hear all the nuances of your favorite songs or a gamer who wants to immerse yourself in the experience, you want the ideal headphones to help you. We're going to look at the best closed back headphones to make sure you get exactly the experience you want, no matter what you're planning to do with your headphones.
Best Closed Back Headphones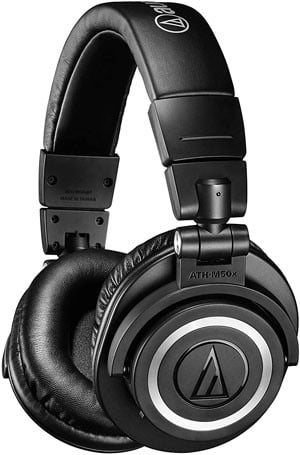 The Audio-Technica ATH-M50xBT Wireless Headphones are available in four different colors to give you a match to your ideal style. Not only that but they come in both a wired and wireless version, which will allow you the freedom to choose between the slightly better quality of the wired or the freedom of choosing wireless.
You'll get touch control, which gives you voice assist and sensitivity of 99 dB/mW. That means you're going to hear absolutely everything that's coming through those headphones and that goes for your video games and your music, or even those conference calls you need to tune into all too frequently.
The mic and button controls are built directly into the ear cup, which means no matter what you're listening too or who you're talking to, it's easy for you to control everything. You can increase or decrease the volume as well as adjusting the microphone right on the headphones, without having to go to the device you're playing through.
The mic being directly on the ear cups allows you to talk normally and still be heard clearly by anyone you need to communicate with. There's also a 45mm large aperture that improves clarity of sound even if you're using extended frequency ranges, such as listening to more varied music choices.
You'll get a sonic performance similar to the style you get with the studio headphone version of this brand, as well as a USB charging cable and pouch to carry them in. Unfortunately, you're not going to get the exact performance with the wireless version as you will with the wired ones and they're not quite as comfortable as similar headphone options.
Pros:
Touch control for voice assist
Mic located directly in ear cup
Designed for extended frequency ranges
Strong clarity prioritized over base
Bluetooth connectivity for wider device control
Cons:
Not as comfortable as others
Lower performance quality compared to wired headphones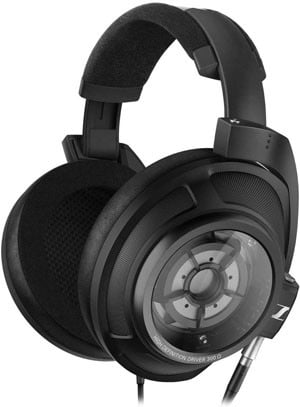 Sennheiser is one of the top brands available when it comes to headphones and if you're looking for the top wired headphones you'll want to at least give them a chance. They offer high-end technology that's designed to give a crystal clear and completely authentic sound experience. For those who enjoy listening to their music exactly as it was intended, this is the way to go.
The low-end of your frequency range is excellent quality and offers a good amount of quality for mid and high-end as well. Not only that but you'll have plenty of bass to help those who want to really jam out with their favorite songs.
These Sennheiser headphones offer a thick sound and high detail along with a large sound stage, especially for a closed-back set of headphones. You'll be able to hear each instrument in any music you listen to and fully immerse yourself in the sound and experience of your favorite games as well.
They stay comfortable, even when you're wearing them for an extended period of listening, and don't create hot spots on the ears or your head. This makes it easier for you to wear them all day if you choose, and to make sure that you enjoy the softness over your ears.
Quality engineering makes these headphones a good pick for anyone and makes sure that you get less interference from outside noise. The ear cups surround your ears firmly and completely, erasing anything you don't want to hear so you can focus on what you do.
These headphones don't have quite the same noise cancelling effect as the HD800 version, and they aren't quite as good with the mid-range or high-end as you might get with similar headphone options.
Pros:
Excellent low-end sound
No hot spots from extended wear
Quality engineering
Authentic sound experience
Cons:
Not ideal mid-range/high-end
Not complete noise cancelling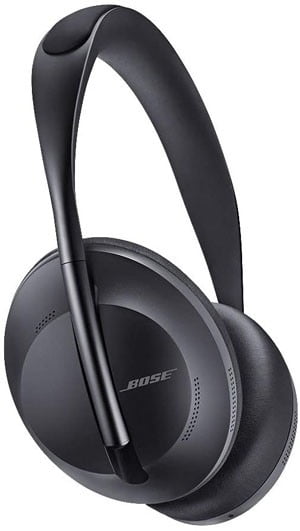 Wireless headphones give you the opportunity to listen to anything and everything that you want, while also allowing you to move around whenever and however you want. With these Bose Noise Cancelling Headphones you'll have Bluetooth technology that makes it easier to connect to your chosen streaming device, including a smartphone or computer.
Complete with Alexa voice control, these headphones give you complete control over what you're listening to and anything that you might want to change. Alexa can answer your questions, increase or decrease your volume and even change what you're listening too. And all you have to do is say what you want.
Made by a company that's well known in the technology industry, these Bose headphones come in three different colors to match your personal style. They also have 11 different levels of noise cancelling. That means you can tune out the outside world entirely, making sure that you hear nothing but the music or gaming you want. You can also lower the noise cancelling to keep you aware of what's happening around you.
Lightweight and made with stainless steel for the headband, these headphones are designed for you to listen all day. They even have angled ear cups designed with soft and comfortable materials to keep you from feeling the pressure after an extended listening session.
The wireless battery offers up to 20 hours of life and lets you stay aware of just how much power you have left. You get touch controls directly on the ear cups to keep these headphones easy to use and you'll enjoy the slim profile.
Unlike similar options from Bose and more, these headphones don't fold to make them easier to transport. They can also tone down your music slightly, not reaching quite the full spectrum of frequency and volume for more unique music choices.
Pros:
Up to 20 hours battery life
Alexa compatible
11 levels of noise cancelling
Quick charge offers 2 hours of battery with 15 minute charge
Cons:
A little heavier than some comparable options
No folding option for storage
Not ideal frequency range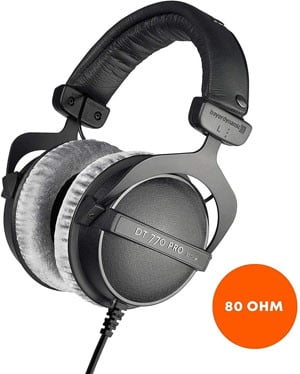 Designed specifically for professional recording sessions, these beyerdynamic headphones come in four different size and frequency options as well as two different colors to match your needs. More importantly, they're designed to make sure that you can hear every nuance of the music you like best, whether you're recording or just listening for pleasure.
You'll get high-resolution sound and purity that you won't get with similar options. Even more, you'll get soft ear pads that are not only circumaural and velour but also easy to replace when needed. That means you're not going to need to replace these high-end headphones as frequently as some others you may find.
Made in Germany, these headphones also have an adjustable headband to get a better fit and feature padding all the way from the ear cups over the headband. This makes them more comfortable for you to wear, even if you're going to be engaging in an even longer session.
The excellent sound volume makes them ideal for professionals in the music industry including music producers and broadcasters. They also have excellent bass reference and spacious reproduction, which is not as common with closed headphones. Add in the acoustic definition and you're definitely getting a well-rounded unit.
You will get some quite high highs and sharp sounds, which can be a little overwhelming for some users. These headphones also do not provide a detachable cable, which can make them a little more difficult to transport safely. They require a little more care to make sure the cable doesn't break in transition.
Pros:
Padded headband as well as ear cups
Designed for studio use including recording
Purity of sound and instrumentation
Excellent volume and bass
Cons:
Can be too sharp on the high end
Cable is not detachable for transport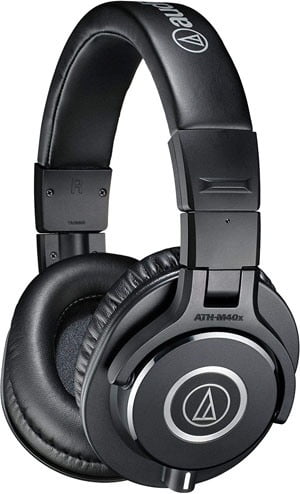 Gaming requires just the right type of equipment and part of that has to do with the headphones you use. While you can engage with your game entirely on your own, or without headphones at all, it's more fun to really immerse yourself in the experience.
These Audio-Technica ATH-M40x Headphones offer the features you're looking for in a set of gaming headphones including a sleek look and plenty of comfort. If you're going to be gaming for an extended period of time you want to know that your headphones will feel good. These offer padded and swiveling ear cups to give you control. They also have a padded headband.
The detachable cable means these headphones are easier to take with you wherever you want to go, without having to worry about damaging the cables. They also have excellent sound isolation, which allows you to become even more immersed in gameplay without being distracted by everything happening around you.
Durability is another important feature and you'll find it here. These headphones are built to last and take on a more rugged experience. They have 98 dB sensitivity as well as being collapsible. All of this makes it easy to use them and to hear everything that's happening in that next game.
You won't get a mic built into these headphones, which means if you want to communicate with others you'll need to add on part of a headset. You'll also want to check out the heat with these ear cups. For some they can get a little bit warm when worn too long.
Pros:
Excellent sensitivity
Collapsible and detachable cord for easy transport
Can be turned loud for true immersion
Clear sound and excellent quality
Cons:
Can get overly warm
No built-in mic
If you're looking for the basics but not anything too high-end you can opt for the Status Audio CB-1. These headphones are simple but still provide you with good features and quality. They are made by a company that's well-known in the recording industry and among some of the pickiest music listeners around.
You'll get 50 mm drivers to get higher end quality as well as a wider soundstage. Not only that but the padded headband and ear cups are made to keep you more comfortable. That means you can listen even longer. The ear cups surround the ear to make sure you get excellent noise cancelling but don't put too much pressure on the ears.
Adjust the headband to fit your head easily and you'll be ready to go. These wired headphones offer two different options for wired connection, including a straight cable and a coiled cable, both at 9 feet in length. You get to choose the one that works best for your needs and lock it into the headphones to make sure it doesn't get pulled out while you're listening.
The slim profile means that they're easier for you to use, and they're more stylish with the accented design on the exterior of the ear cups. They also fold down easily so you can store them in a bag when you're traveling without having to worry about damage.
Overall, the cushioning and padding in the ear cups doesn't seem as high quality as some of the other features of the headphones, which could mean shorter lifespan. They also offer a relatively neutral sound compared to other closed back headphones, which can mute some of the features you want to hear in your music.
Pros:
50 mm drivers for wide soundstage
Padding throughout for added comfort
Adjustable headband for better fit
Foldable design for easy transport
Cons:
Not high quality padding in the ear cups
Neutral sound overall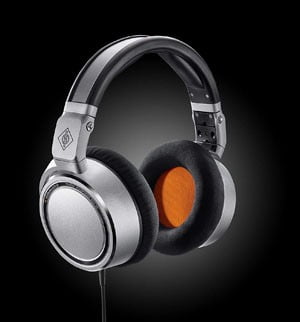 Comfortable headphones are always important but you also want to get a lot of other features too, right? Well, these Neumann NDH20 headphones will give you a little bit of everything that you're looking for. You'll have high end features throughout these headphones which makes them great no matter what you need.
These headphones offer the best in sound isolation, making it easier for you to work or listen to your favorite songs wherever you want. They also have a transparent sound that's actually closer to what you would get with open-back headphones. That means you're going to get the best of both worlds in sound quality and features.
Great for transport and for extended wear, these headphones have a linear sound balance and all of the features that you would expect from such a well-known brand. They're sleek and stylish with the silver ear covers but they don't sacrifice style for everything else.
High sensitivity and low distortion mean that you can enjoy your music or anything else you want just thew ay it was meant to be heard. You'll also be able to fold them and store them in an included bag to keep them safe and make them even more portable. They're also made with aluminum, steel and memory foam to get even more longevity and durability out of them.
They don't give the extra bass that some prefer when really getting into their music, but focus on the true sound instead. They're also not quite as good as open-back headphones (as they claim), which can decrease the versatility for some users.
Pros:
High quality materials
Easy to fold and transport
Transparent sound
Sleek style
Cons:
No extra bass
Not comparable to open-back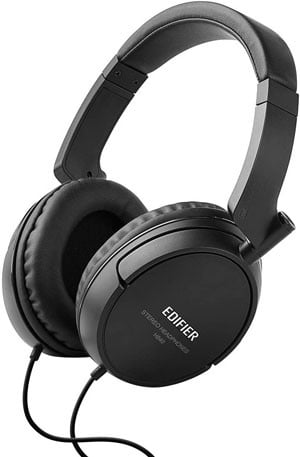 There are a lot of features that go into comfort but one of those is weight. You want headphones that are going to be easy to wear for a long period of time and no matter how comfortable the headband and ear cups are, if they're too heavy that's not going to happen.
With the Edifier H840 you'll get good features and quality that are balanced out by the fact that these headphones weigh only a few ounces. They have an ergonomic design for the ear cups and they're made with a soft leather to improve your comfort, but there's steel under the leather of the headband to make sure they're still durable.
The 40mm driver means you get good quality and they're noise isolating, so you can tune out whatever is happening around you much easier. These wired headphones offer a good balance between treble and base, making them ideal for monitoring and especially for those who are just getting started.
You can adjust the headband to fit you better and when you're done with them they fold easily to make them quick to store and safer for transportation. All you need to do is choose the color that you want to match your personal style and you'll be ready to go with anything you want to listen to, and anywhere.
These are wired headphones, and the wire isn't the highest quality, but seems to do its job. Also the materials used for the build of the headphones are a little lower quality than you will get with other, similar options.
Pros:
Ultralightweight
40 mm driver for good sound versatility
Ergonomic ear cup design
Good sound isolating features
Cons:
Not high quality materials
Not completely noise cancelling
9. Mpow 059 Bluetooth Headphones – Best Collapsible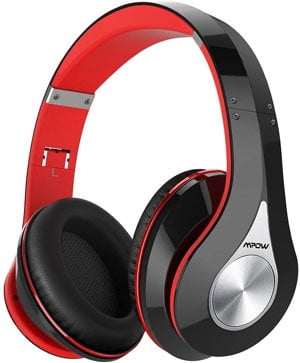 Foldable headphones can be a benefit if you're the type of person who travels frequently and you want to be sure your headphones are safe. The smaller you can fold them the less space they take up and that makes them easier to protect. That's definitely true of these headphones.
The Mpow 059 Bluetooth Headphones are entirely wireless, which makes them convenient for listening on the go. They also have memory protein ear cups to keep them more comfortable and soft no matter how long you're listening. While maintaining comfort, however, they also offer all of the sound features that you're looking for.
You'll get 40 mm drivers and noise isolation to help you close out some of the sounds of the world around you. What you will get is plenty of immersion in the sounds that you're listening too. And if you run out of battery power you can easily plug them in and continue listening with the wired feature.
Hands-free calling and a built-in mic make it easy for you to stay connected to anyone, at any time. And when you're ready to head out and want to take them along you can fold them and store them in their own bag. They'll be ready again whenever you are.
These aren't noise cancelling headphones, which means that they're not quite as good at getting rid of the outside noise while you're listening. Some also find these headphones to be a little small in the ear cups which means they might feel like they're sitting on the ears instead of over them.
Pros:
Easily foldable for transport
40 mm drivers for versatility
Hands-free calling
Built-in mic
Cons:
Can be too small for some users
Not fully noise cancelling
No one wants to listen to a lot of background noise when they're trying to listen to their favorite music or immerse themselves in game-play. That's where the Elite 85H headphones come in. Available in several different sleek color and style combinations, these headphones are truly noise-cancelling.
What makes these headphones unique is the fact that they not only allow you to eliminate noise outside, but also detect noise in your environment and automatically set the noise cancellation for you. That way, nothing is going to interrupt your experience. This makes it easier for you to continue what you're doing without worrying about too much noise.
The long battery life means that you can get up to 36 hours of listening time on a full charge, and if you only have a few minutes you can get 5 hours of battery life with a 15 minute charge. That makes them easy to take with you anywhere you want to go and you'll never have to worry about running out of power while you're traveling.
You get 8 built-in microphones, which help to improve quality on calls while blocking out all of the external noise that can compromise your call. You'll have completely clear sound and everyone you speak with will be able to hear you easily.
These headphones are even water resistant, which makes them safe to use outdoors, even if you're in for a little bit of rain. They're comfortable, versatile and provide excellent features for those who want a more customized experience for listening. All you need to do is download the app and you'll get all the control you want.
You can connect to only two Bluetooth devices at a time when using these headphones, and having even two connected can confuse the system, resulting in some difficulty getting notifications and response from both. You may also notice that the headband is a little low for some people and can be a little uncomfortable as a result.
Pros:
Complete noise cancellation
Up to 36 hour battery life
8 built-in microphones
Rain resistant
Cons:
Can be too small for some users
Bluetooth connectivity issues
Buyer's Guide: How We Picked Closed Back Headphones
When it comes to choosing the best closed-back headphones there are a number of different features to keep in mind. Depending on what you're going to use your headphones for you might find some features more important than others, but you'll definitely need to know a lot about them. That's why we created a buying guide to help you figure out what it is that you need most.
Closed back headphones give you a great deal of noise cancelling benefits, though they can be a little bigger and bulkier than other styles of headphones. The large ear cups that wrap all the way around and cut out background sounds, however, can make that tradeoff worth it for some users.
They come in different styles and offer different features depending on the specific one you decide to choose. We're going to take a look at some of the most important factors that we found and what you need to know in order to decide which headphones fit your needs.
Wired or Wireless? – When it comes to sound quality there is a difference between wired and wireless headphones. Wired will give you a little more clarity and precision however you'll be tied to your device. On the other hand, wireless headphones allow you to move around freely, often connecting via Bluetooth, but lose a little of the quality in the process. For some, the trade-off is worth it, however there is a growing interest in higher quality wireless headphones, and some brands are working on that.
Noise Cancelling –While closed-back headphones are sound isolating by nature, not all of them are as good at noise cancelling features. Some are designed with thicker foam for the ear cups or better quality materials that help them to block out all noise. Some have additional features built into them to provide different levels of noise cancelling as well. This ensures that you can immerse yourself in whatever you're listening to exactly to the extent you want. You'll want to look at whether or not your headphones are actually sound isolating (meaning they cut down external noise) or noise cancelling (meaning they get rid of all external noise).
Comfort – You want to be comfortable when you use your headphones and that's where the padding and the foam of the ear cups and headband come into play. You want to make sure that there's enough padding to make them soft even for extended wear but not so much that you end up with poor sound quality or poor quality overall. Too much padding could mean that the ear cups don't hold up over time. Look at the shape and adjustability features of the headphones as well to determine if they will fit your head shape easily.
Sound Clarity – You should be able to hear everything that's happening in whatever it is you're listening to. You want to be able to hear each instrument on a music track and every aspect of your game. Better quality headphones will offer more clarity and a wide range of frequencies as well, improving your listening experience. For those using their headphones for music listening and especially monitoring and recording being able to hear every aspect of the music is crucial.
Microphone – Not all headphones come with a built-in microphone. Most who use a microphone will tell you that's actually better, because microphones built into headphones are not as good as the ones that you can buy separately. But look at how you're going to use your headphones. A built-in mic might be sufficient and save you from having to buy a separate piece of equipment at the same time. It also means keeping track of one less piece of equipment.
Controls Type – Most headphones now have their own controls that are located somewhere directly on the headphones themselves. This makes them easy to control, especially when you're using wireless, Bluetooth headphones. Others offer voice controls, which can be convenient if you're engaged in a task where you don't have your hands free to change the controls on your headphones. Those who are involved in crafting or cooking or even gaming when you're in the middle of something, need voice controls to adjust their sound.
Detachable Cable – A detachable cable for wired headphones means that you can completely unplug the cord from the headphones as well as the device you're connected to. This is important because it keeps the cord from getting damaged during storage and transport. It also allows you to replace the cord if it's damaged at any point without having to replace the entire set of headphones. You also have the ability to upgrade your cables if you find something stronger or something that works better for your needs (for example, some prefer straight vs. coiled cables and vice versa).
Foldable – Foldable headphones are another convenience. Some don't fold at all, which can make them large and bulky to store or to take when traveling. On the other hand, some fold only at the ear cups, which will minimize the size slightly and protect the ear cups while traveling. Others fold entirely in half, reducing the potential for damage further and may even come with a bad to store them in. This can make them more convenient for you to travel with.
Durability – Buying poorly made headphones means that they're not likely to last very long. While you want to take good care of your headphones no matter what, you also need to understand that sometimes things happen. If you drop your headphones or they get bumped you want to know that they are going to continue to work properly and that they won't break apart. Stainless steel in the headband is one example of using more durable materials in construction.
Size – For some, the size of the headphones doesn't matter as long as they provide the features that they're looking for. Others might want something a little less bulky, which also means cutting back a few of the features like noise cancelling and sound immersion. Bulky headphones will generally have more padding, which can also contribute to the comfort level of the headphones as well.
Weight – Closed back headphones can be slightly heavy because of the size of them. They are designed to fully cover the ears and some do this with quite large ear cups. The size of the ear cups, the material used to create them and the material for the headband can make these types of headphones heavier than other styles. Still, there are a number of lightweight options that are out there for individuals who want more long-term comfort while wearing their headphones.
Style – While most closed back headphones look similar, there are some aspects that allow you to showcase your personal style. For example, some offer different designs or accents on them that will give a unique look. Others come in a range of different colors rather than the basic black that has been the industry standard for a long time. That way, you can show off your personality with your headphones, no matter where you are.
Recommendation
As you can tell, there are a number of different types of closed back headphones available. These headphones provide a number of different features and benefits for those who are interested in really immersing themselves in anything they want to listen to, whether it's that important work meeting, their favorite game or another great track from their favorite artist. From there, it's about determining which set of headphones is ideal for you.
For those who want great quality and all of the high end features you can't go wrong with the Sennheiser HD 820. You'll get great sound quality all-around with the thick, detailed aspects they're known for. You'll also get extremely comfortable headphones that you don't mind wearing for an extended period because they're made with quality engineering.
For those who want something a little more basic that can get the job done without too many of the extras the Status Audio CB-1 headphones are a great pick. They're not fancy headphones, but they still give you good quality and 50 mm drivers, so you'll get good versatility as well.
The Neumann NDH20 is a great, stylish set of headphones that will have people talking wherever you go. But even more important are the features of these headphones, including the linear sound balance, high sensitivity and low distortion. You'll get great sound and isolation that helps balance out the features of open-back and close-back headphones. They're a good option for anyone who wants comfort and versatility.
Audio-Technica makes some good headphones as well with their ATH-M40x coming in as our favorite pick for gamers because of the enhanced sound quality, noise cancelling and comfort. But the Audio-Technica ATH-M50xBT comes in as our overall pick, providing just as much versatility and high-end features with voice assist and an integrated microphone.
Wrap Up
When it comes to buying your next set of closed-back headphones, make sure you take the time to do your research. Find out which ones offer the features you're looking for and just how well they're going to work for your chosen needs. Hopefully you're now feeling a little more prepared to make that decision for yourself.