Long gone are the days when you had a cord to worry about when listening to music through headphones or earphones. Today, it's all about wireless technology. And while you can get some pretty good wireless headphones, they still don't have the versatility you get with wireless earbuds.
Two fine examples of wireless earbuds that are available on the market today are the Tozo T6 and the Tozo T10.
Tozo T6 Review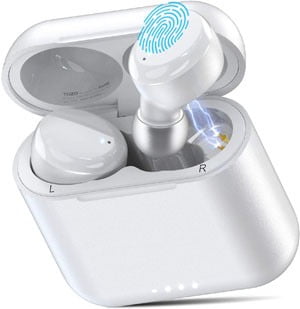 The Tozo T6 are a great pair of wireless earbuds. Measuring in at 1.2" x 1.3" x 1.0", and weighing just 0.02lbs, they are so compact and lightweight that you can carry them with you just about anywhere. They're also very comfortable to wear, hugging you in all the right places. While they're aren't exactly noise-cancelling, they do a pretty good job at reducing busy background noise.
To help keep them protected when not in use they come with their own little carry case in which also doubles up as a charging facility that can be charged using any Qi-enabled wireless charger.
Moving on to the performance. The overall sound quality on the Tozo T6 is pretty well balanced and suited to a wide range of music genres. However, it does have a kind of excited sound, so may be less favorable for those wanting to listen to a little soft jazz or classical music.
The touch-sensitivecontrols work very well too and save you from having to handle clunky, physical buttons. Tap once on either earbud to play or pause the device; tap twice on the left one to skip forwards or twice on the right to go backwards in tracks; and simply hold either earbud to adjust the volume level up and down.
Tozo T10 Review
The Tozo T10 wireless earbuds are very similar to its sister model, the T6, in many ways. They share the same the same funky, cool, appearance, and both are pretty small and lightweight.And like the T6 earbuds, while they have no active noise cancellation (AWC), they are still pretty good at blocking out background noise.
However, measuring in at 1.2" x 1.1" x 1.0", the T6 earbuds are slightly thicker and bigger in size than the T10s, and maybe don't fit quite as well.That being said, they are still comfortable enough to wear for several hours without any issues.
In terms of performance, the Tozo T10 is a bit of a bass monster. They produce a very warm, but bass-heavy sound that would be well suited to many genres. But, just be aware that it might be a little too much bass when listening to music such as classical, folk, or soft jazz.
There are no touch-sensitive buttons with the T10. All the controls are physical, clickable buttons. And while they work well, they just aren't the same as the touch-sensitive controls that the T6 has. Another thing that's not quite as good on the T10s is the battery life. The Tozo T10 battery can last for 3.5 hours on a full charge, which is a whopping 2 hours less than the T6 earbuds.
Recommendation
While both earbuds are good in their own right, offering clear sounds and a reasonable battery life, the Tozo T6 earbuds go a little beyond that. As well as being equipped with touch-sensitive controls, and a much better battery life than that of the T10 earbuds, they also offer a slightly better overall sound quality.
The T10 earbuds are very good in their own right, and if you are looking for a reasonably priced pair of wireless earbuds that are comfortable to wear, will give you a fair amount of playtime from a single charge and don't mind your sounds bass-heavy, then these are a good match for you.
But, for a better battery life and an enhanced sound quality, the Tozo T6 wireless earbuds are the better choice.