If you are an athlete or a bodybuilder and you want to go through your daily routines whilst listening to your best tunes along the way, you would want to go for wireless headphones, you definitely don't want those wires getting in the way. Let's dive in and take a look at these two truly wireless in-ear headphones and see which one is the right pick for you.
Bose SoundSport Free Truly Wireless Sport Headphones – Midnight Blue / Citron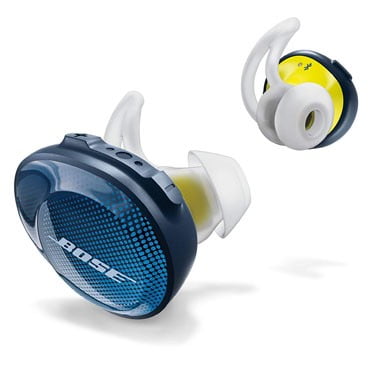 The Bose Soundsport Free is sleek, convenient and perfectly designed to stay in place. With a whole load of technology, you can take your workout sessions to a higher level. Every aspect of the Bose Soundsport Free has been looked into carefully, from the adjusting of the circuits for better and clearer sounds to the fine-tuning of the antenna point for optimal Bluetooth signal strength.
These headphones have a supreme mix of comfort and support, the nozzle of the StayHear+ Sport tips has been engineered to spread contact smoothly around the inner part of your ear, and the fin spontaneously conforms to the shape of your upper ear ridge. They stay cozy and don't fall out.
It is also water-resistant, these earbuds are not scared of any liquid, rain or sweat or even a dip in water, thanks to the water-repellent mesh used in the ports. It has a connectivity range of up to 30ft, but this can be negatively altered by obstructions like walls.
A single charge gives you up to five hours of playback, that's just about enough to get you through your routines. The case protects the earbuds and supplies it with two supplementary full charges to get them ready for action again. If you are in a hurry and the batteries are dead, charging it for just 15 minutes will give you 45 minutes of playback time.
More features of the Bose Soundsport Free:
Truly Wireless
Reliable connections
Advanced calling
Volume-Optimized EQ
Works with the Bose connect app, where you can get hints, and also see where your earbuds were last connected with the "Find My Buds" option in case you lose them.
Jabra Elite Sport True Wireless Waterproof Fitness & Running Earbuds with Heart Rate and Activity Tracker – Advanced Wireless connectivity and Charging case – 4.5 Hour (Certified Refurbished)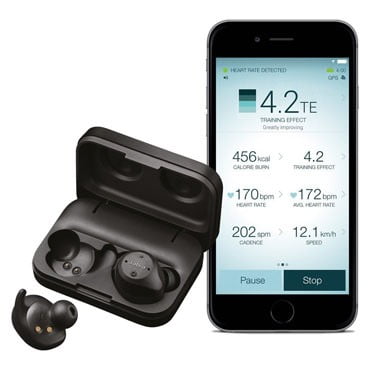 The Jabra Elite Sport is arguably one of the most exceptional wireless earbuds, with exceptional comfort and a never-failing secure fit which is made possible by re-adjustable fitting features that permit all-day usage and boosts sound quality.
With just the click of a button, you can be more alert to the activities going on in your surroundings, with the hear through feature, which smoothly filters the sounds around you.
Just like the Bose Soundsport Free, the Jabra Elite Sport is also waterproof, it has the ability to fully resist water, sweat. Get through those vigorous exercises without worrying about damaging your earbuds with sweat.
It comes with a rechargeable battery that lasts up to 4.5hours on the spin, together with a handy charging case, these earbuds can deliver up to 13.5hours of playback time.
The cordless design of the Jabra Elite Sport consists of one microphone in each of the buds that work in sync to filter out background noise, so if you are making a call, only your voice would be heard clearly without any environmental distractions.
More features of the Jabra Elite Sport True Wireless Earbuds:
Truly wireless
Stable connections
Voice assistant
Advanced calling
3-year warranty against sweat damage(requires registration through the Jabra Sport Life app
Download the Jabra Sport Life app to track your fitness and it also works with the in-ear heart rate monitor and also provides audio coaching during your exercises
Recommendation
Whether you choose to go with the Bose Soundsport Free or the Jabra Elite Sport, you will definitely get earbuds that have quality and durability. There isn't much to separate the two, except the price. The Bose Soundsport Free has a slightly higher cost than the Jabra Elite Sport.Anyone you pick is going to satisfy your needs.