Having a sound speaker is a great asset for music lovers. Its portability makes it easy to carry around. It comes in handy when you are having a small get together party with friends. It is a welcome technology in the wireless world; it can work without any restrictions, as long as the Bluetooth speaker and the pairing device are close to each other. Likewise, it can be used in the place of earphones and headphones. Furthermore, it is even preferred by some people because it is wireless, and the connection between the speaker and receiver can be established automatically. There are so many Bluetooth speakers in the market that does not measure up to standard. We are going to review two quality Bluetooth speakers, so you can make a choice.
Bose SoundLink Revolve Portable Bluetooth 360 Speaker, Triple Black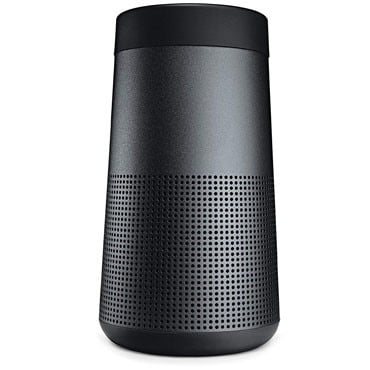 Bose soundlink resolve is one of the best portable Bluetooth speakers in the market. The built in rechargeable lithium battery guarantees 12hours of constant play, but it takes about 4hours to charge when fully drained, which is a considerable amount of time. The 360° design enables it to provide full, consistent coverage and an incredible listening experience. It also allows you to connect two different devices to it, so you can alternate which device controls the music. The soundlink resolve allows you take calls and you can even access Google Now or Siri.
This speaker comes with the option of pairing two speakers together for stereo mode playback or amplification. With the Bose connect app, you can get updates, unlock different features and even manage Bluetooth connections. This speaker can be connected to majority of the tripods in the market with the threaded mount. Even with the aluminum body, it fully isn't waterproof which is a little disappointing. Although it can withstand splashes of water, but submerging it in water would damage it. Obviously it is not a speaker you can take for a swim.
Bose soundlink resolve can pick up your voice from any corner because of the microphone located just right above it. With the deflect plate it that can diffuse sounds to all directions accordingly. Also, a transducer controls the trebles and mids. The bass can be a little shadowed if the speaker is kept at the centre of a room, but this can be adjusted if the speaker is kept close to a wall.
More features of the Bose soundlink resolve portable Bluetooth 360 speaker
It comes with a USB cable
It is IPX4-rated
1 year warranty
It has the capacity to store 8 paired devices in the pairing list at the same time
UE MEGABOOM Charcoal Black Wireless Bluetooth Speaker

It has a really fancy look, and can be used both horizontally and vertically. Although it is a bit on the high side, it is worth every cent. It has multiple speaker drivers that enhance the 360° sound. Having a guarantee of 20 hours playtime, makes it way above its competitors. It can be submerged in water for at most 30minutes without it developing any fault. It claims to offer up t 100 meters Bluetooth proximity, meaning that you can move your phone from one room to another without there being a break in the sound.
This 9 inches long Bluetooth device is extremely portable as well, and can be carried around with no difficulty. The bass sound it gives is top-notch and a lot better than most speakers. It has a useful control app that allows you to connect two megaboom for stereo sound, and also gives you the option of turning off or on the megaboom remotely.
More features of the UE MEGABOOM wireless Bluetooth speaker
It is IPX4-rated
It is dust proof, drop proof, and waterproof
Recommendation
If you are a heavy user, and you occasionally would love to go for a swim with your speaker, then you can opt for the UE MEGABOOM wireless Bluetooth speaker. And if you just need it for casual fun, nothing too extra, then you can go for the Bose soundlink resolve portable Bluetooth 360 speaker. That aside, both speakers offer great sound experience, you might need to put them closely to your ears to spot the difference.