If you lead an athletic, fast-paced lifestyle, you may need a pair of wireless Bluetooth sports headphones. Bluetooth sports headphones are designed to comfortably stay in the ear during intense workouts, providing efficient access to music and phone calls. Jaybird has two versions of in-ear Bluetooth headphones, but one is an upgraded version. Let's take a look at both, and see which one will be the best fit for your headphone needs.
Jaybird x3 Wireless Bluetooth Headphones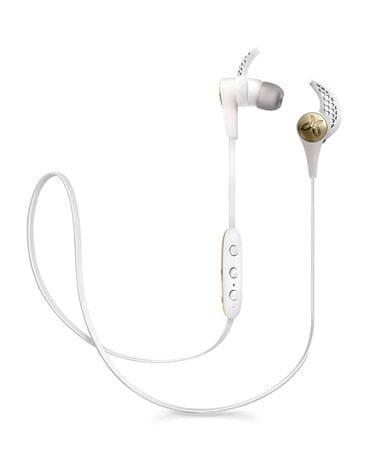 The Jaybird x3 Wireless Bluetooth headphones came out in 2016, with many convenient features and specs for an active lifestyle. The Jaybird x3 is a sleek, small headphone set that wraps around the head via a single cord. It comes with silicone ear fins that attach to the top of the ear, which keeps the earbuds in the ear during physical activity. The Jaybird x3 also comes with Comply tips and silicon that fit comfortably inside the ear, providing noise cancellation. The ear fins, Comply tips, and silicon come in three separate sizes to fit your unique needs.
Not only do the headphones come with customizable hardware to fit your ears best, but the Jaybird x3 also connects to the Jaybird App. This app allows you to customize your music sound, so your music plays the way you want it to. The Jaybird x3 saves your sound specifications so your music sounds great across all paired devices. This app works with iOS 9+ and Android 4.4+.
These headphones are sweat-proof with a hydrophobic nano-coating to protect against moisture. This includes protection against sudden weather changes, such as snow or rain, so that you can continue your day uninterrupted—no matter what the weather is.
With an 8 hour battery life and 2.5 hours of charge time, your workout won't be interrupted by a low battery. This product has 200 hours of standby time as well, with quick charge available. If you only have 20 minutes to charge, you can expect 1 hour of use with quick charge.
More features of the Jaybird x3 Wireless Bluetooth Headphones
Bluetooth version 4.1
Works best within 30 feet (10 meters) of phone
Harmonic Distortion: 5%
103 dB headphone sensitivity
No IPX rating; water resistant but not waterproof
Jaybird x4 Wireless Bluetooth Headphones
The Jaybird x4 is the upgraded version of the x3, so it has a few key differences from the older model. For starters, the Jaybird x4 is waterproof. It can survive 30 minutes in up to 1 meter of water. This does not mean that you can swim with them, but it's great added security.
This version also changed the silicone ear fins toallow for a different style of comfort and security, with 3 different sizes for you to choose from. Along with this, the Jaybird x4 has Comply Ultra foam tips, which enhance sound, comfort, and durability. These tips adjust to the wearer's ear, and are thermo-reactive. The Jaybird x4 comes with Comply Ultra ear tips and silicone ear tips in two separate sizes.
The Jaybird x4 also comes with great battery power. Quick charge time has been maximized with this product, so you can charge for 10 minutes and get 1 hour of use. Complete charge time also dropped down to 2 hours, for 8 hours of use.
Nearly all of the features of the x3 are available with the Jaybird x4. The Jaybird App works with these headphones for iOS and Android to customize your music preferences. This product also has noise cancellation for maximum sound. To make managing the cord easier with this device, the Jaybird x4 also comes with a speed cinch to get the cord quickly off your neck.
More features of the Jaybird x4 Wireless Bluetooth Headphones
Bluetooth version 4.1
Works best within 30 feet (10 meters) of phone
Harmonic Distortion: 0.5%
99 dB headphone sensitivity
Rated IPX7, waterproof
Recommendation
If you need a sleek set of wireless Bluetooth headphones for workouts, sports, or your busy lifestyle, both of these headphones would work excellently for you. The Jaybird x4 is a much more simplistic model that covers your basic athletic headphone needs. If you don't plan on getting very wet in your headphones, the Jaybird x3 is a great option. However, if you like the idea of waterproof protection, as well as slightly better battery and music quality, the Jaybird x4 may be a better fit for your needs.