If you lead an active lifestyle and need a new set of headphones, Bluetooth wireless on-ear headphones may be for you! Wireless on-ear headphones allow you to move without restrictions, while taking phone calls and listening to music as you need to. Marshall makes two headphones that seem very similar at a glance, but actually have a few differences. Let's take a look at both, and determine which one would meet your unique needs.
Marshall Major III Headphones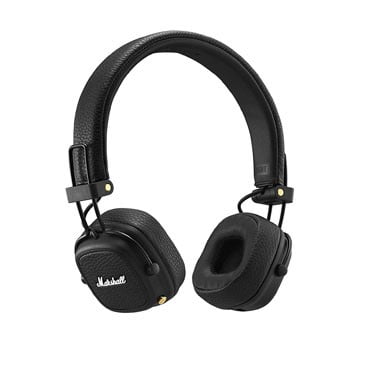 The Marshall Major III headphones have a classic yet modern design, with a vinyl covering and a durable build. The on-ear cushions and headband are plush, allowing you to listen to music comfortably for hours. On top of this, these headphones are collapsible for ease of travel, and have a 30-foot listening range.
These headphones also come with a multi-directional control knob, which allows you to power on and off the headphones. This knob also adjusts volume, play, pause, and shuffle, on top of allowing you to answer or reject phone calls. The Marshall Major III also makes use of Bluetooth aptX, which has a higher bitrate for music and has fewer audio/video-synching issues.
The Marshall Major III headphones generate clear high notes, smooth medium notes, and an enhanced bass to deliver an excellent listening experience. This is achieved with dynamic 40 mm drivers. These headphones also come with a double-endedcord to attach the Marshall Major III to your device, to conserve power or by yourpreference. This cord also includes a microphone and remote for your convenience. The 3.5 mm socket on the headphones can also be used to plug in another pair of headphones, to share your music with someone else.
When the battery is low, a notification will sound to warn you that the Marshall Major III needs to be charged. It takes about 3 hours for the headphones to be fully charged. With a full charge, you have 30 hours of music or talk time.
More features of the Marshall Major III Headphones:
Frequency response is 20Hz-20kHz
99dB SPL driver sensitivity
Marshall Mid Headphones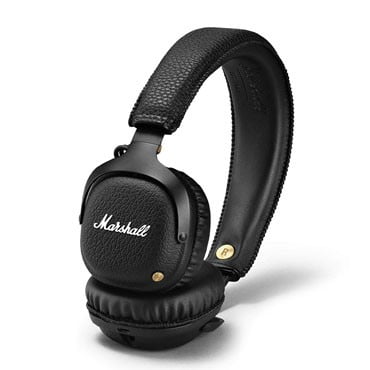 The Marshall Mid headphones have a modern rock 'n' roll design, with many similar features to the previous product. These headphones are covered in vinyl, with a similar plush headband and on-ear cushions, as well as added metal hinges and brass. The Marshall Mid includes a multi-directional knob for listening and call control, which appears on the back left headphone.
One difference that sets the Marshall Mid headphones apart is the passive noise reduction incorporated into the two built-in microphones. On top of having clearer phone calls, this also allows you to record voice memos if you need to. Another difference to note is that the headband adjusts via a series of clicks.
The sound quality of the Marshall Mid is a balance between bass and clear high notes for the best sound. To achieve this, the headphones have custom tuned drivers for optimal sound quality. On top of this, you have 30 hours of listening or talk time from one full charge. Similar to the Major III, the Marshall Mid also takes approximately 3 hours to completely charge.
This headphone set also utilizes the aptX Bluetooth software for the best audio quality within 30 feet of your wireless device. Using the aptX also reduces audio and video synching issues, similar to the Major III. These headphones also come with a detachable 3.5 mm double-ended cord for battery conservation or preference. Music sharing can also be done by utilizing the 3.5 mm audio jack on the headphones, just as the Major III.
More features of the Marshall Mid Headphones:
Frequency response is 10 Hz – 20 kHz
95 dB SPL driver sensitivity
Recommendation
Both sets of headphones are great for avid music lovers with active lifestyles. If you need durability, with great sound and user-friendly control, then the Marshall III is a great choice for you. Conversely, if you prefer a more stylized appearance, great sound, and passive noise control, then the Marshall Mid might be a good choice. Otherwise, both headphones provide wonderful sound quality and similar usability.