The ASA (as known as Aviation Supplies and Academics) was incorporated in 1977. Since then the company has produced and sold a great number of quality aviation products to both novice and experienced fliers alike, with one of their most popular lines being aviation headsets.
In this review we'll go through their two most popular models for you to compare and contrast and see which will best suit your aviation needs.
ASA HS-1 Aviation Headset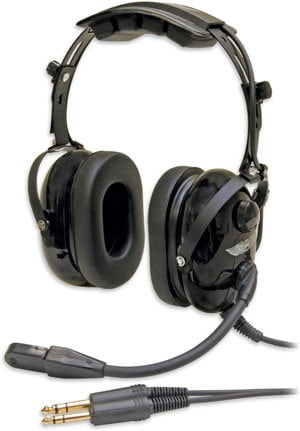 The ASA HS-1 Aviation Headset is a good headset for anyone looking to take to the skies, whether as a pilot or a passenger. In terms of comfort, the earcups are made using a high-density acoustic foam. Not only is this good for trapping sound in but is also very good for providing coziness. And while it does feel pretty snug when you're wearing it, there's no excessive clamping. It literally feels just right.
In terms of quality, this may not be the most robustaviation headset out there, but for the price, it's not too bad. Both the microphoneand headphone plugs are gold-plated to reduce corrosion and to ensure you get the best connection.And, the microphone works well at reducing background noise too, enabling you to hear voices more clearly.
The noise reduction (NR) rating is a pretty decent 23 dB, while the high-fidelity speakers provide a clear and natural sound. All-in-all, the sound quality is pretty good. The volume knobs are also a good size and really easy to use. And, they look great too.
If you do ever experience any problems with the ASA HS-1 Headset, simply get in touch with the manufacturer and they will be more than happy to help. ASA provide a lifetime warranty with this headset.
ASA HS-1A Aviation Headset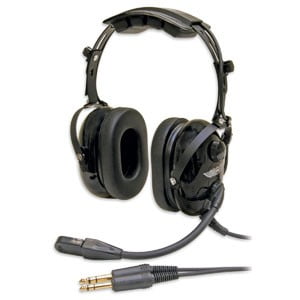 Here we have a slight upgrade from that of the HS-1's. Being an upgrade, you will of course pay a little more for the HS-1A's. But what extras exactly are you getting for your money?
In terms of looks, there's no real difference to be seen between the two headsets. Both offer a great deal of comfort and both are fully adjustable to fit most heads. You get the same level of noise reduction in both headsets and both feature gold plated microphone and headphone plugs to ensureyou get a good connection.
The volume controls on both models work exactly the same and are very easy to operate. And you can change through stereo and mono modes as often you please through the flick of a switch. Both headsets are reasonably sturdy, and both come with a lifetime warranty covering any defects in either materials or workmanship.
The real main difference between these two headsets is the HS-1A's microphone has been upgraded to a new Flex Boom model. Essentially, the flex boom microphone upgrade provides communications at an even clearer level than the HS-1's. It also enables greater flexibility in use as the flex boom houses all the microphone wires.
Recommendation
As you can see there's not a whole lot of difference between the two models. They both offer good sound quality, they're both comfortable to wear, and they both look the part too. And, the fact that they both come with a lifetime warranty is also pretty reassuring.
However, while both headsets are pretty good overall in their own right, at very little extra cost, you can get a much better microphone than the original ASA HS-1's have to offer. Not only is much clearer than its predecessor, it's also better quality and more flexible.
So, if you plan on using your headset more than a couple of times a year and want a product that's of good quality inside and out and made by a company that's got loads of experience, the ASA HS-1A's are the better choice.  But if you are on a budget, or really aren't going to be using them too often, the ASA HS-1's will do just fine.