A family-run business that's been around for more than 30 years, Kore Headset have spent a lot of time and money developing high-quality aviation communications equipment. With this experience under it's wing, the company decided to expand further to offer a wider range of quality headsets that are both effective and affordable. And, that's when Kore Aviation was born.
In this review you can see what two of the most popular headsets on offer from Kore Aviation are and which will better suit your needs.
KORE AVIATION KA-1 Premium Gel Ear Seal PNR Pilot Aviation Headset
The KORE Aviation KA-1 Headset is a high-quality piece of equipment that's designed for people of all ages and all skills. And, it's one of the most popular models out today.
Thanks to the foam ear cups and extra comfortable ear gel seals, thisisone of the most comfortableaviation headsets you're likely to find for a price this reasonable. Whether you need to wear them for 10 minutes or 2 hours, they will keep your ears protected, while allowing you to stay informed.
In terms of actual noise reduction capabilities, they achieve a very ample NRR (noise reduction rating) of 24dB, which is more than enough to shield your ears from all the usual engine and airplane noises. Each ear cup has its own volume control meaning you can adjust the levels individually to suit your requirements. While the built-in microphone is also pretty flexible and produces good sound quality.
The KA-1 Headset is compatible with both iOS and Android and is fitted with a standard 3.5mm plug, which is useful for anyone wanting to listen to music while wearing their headset. And toggling between mono or stereo mode with is made easy thanks to the tough Y-block switch.
And finally, it comes with a free carry case to protect your purchase and a 5-year warranty for added protection.
KORE AVIATION P1 Series PNR Pilot Aviation Headset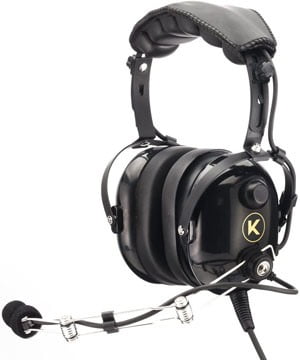 The first thing you might notice when comparing the KA-1 and the P1 headsets is the difference in price. But is the difference really justified? Keep reading to see what the P1 headsets have to offer.
When it comes to comfortability, the P1 headset still carries the same great level of coziness that's found in the KA-1's. They still hug you in all the right places, helping to create that perfect sound seal, but without feeling too tight. One thing that is slightly different between the two models is the weight. While both are pretty lightweight, the P1 headsets are a fraction lighter weighing just 1.75 pounds compared to 2.12 pounds.
At 24 decibels, the NRR is the same in both models, so whichever you choose you know you'll be protected from excessive noise. You have the same on-ear volume controls that are featured on the P1 headset. And, you can still connect your chosen device in which to listen to music as well, whether it's an iPhone, Android, iPad, or MP3 player.
While you do still get a warranty with the P1 headset, it's just 1-year, opposed to the 5-year you get with the KA-1's. The other real difference between the two is the quality of the components used. While neither headset is flimsy as such, the KA-1 is a more rugged model, whereas the P1 headset is more of a budget buy.
Recommendation
Both the KA-1 and P1 headsets are excellent choices for anyone looking for a product they can rely on to work well. Both look pretty good too. But it's clear to see that one outshines the other.
If you're going to be using the headset on a regular basis, the KA-1 headset is the recommended model. Not only is it a better quality that's likely to last longer, it also looks more professional too. And while you may a little more for this headset, the extra quality is worth it.