Surfing the web for your next big purchase can feel overwhelming, especially for technology products. Sponsorships and advertisements have turned online shopping into a battle – whose reviews can you trust? What resources are credible? Will I be satisfied with this product?
While there is rarely a 100% guaranteed way to know exactly what a product (in this case, a pair of headphones) looks like, feels like, and sounds like before it is delivered in the mail, reading someone's opinion and experience with the products is always a good place to start. Think through when and where you will be using the headphones most. Will you take them to the gym to help yourself stay pumped up and motivated? Listen to your music to focus and relax at your desk when work piles up? Watch Netflix at midnight without waking up your roommate?
Let's look into two options for new headphones: the Treblab Z2 and the Cowin E7 Pro.
TREBLAB Z2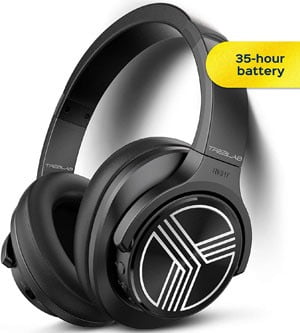 With these noise-canceling headphones, you can expect a product that can last throughout the entire day with your active lifestyle. Its 35 hour battery life can keep you plugged into your music all day long, whether it's at your daily workout at the gym or while you check emails on your couch. It has Bluetooth 5.0 capabilities for its 40 mm neodymium-backed speakers and claims to be the perfect exercise headphones. The ear cushions are sweat-proof and IPX4 water resistant so they can be taken to the gym with no problem.
Focused bass capabilities concentrate the depth of sound, eliminating background noises like traffic, passers by talking, and other sound clutter. Wider range of tone also increases clarity to make each sound totally distinct and crisp. The color options are pretty limited, but the quality of the product stands out among reviews. The headphones also come with lifetime support, so if there is ever a problem with the set, the customer service will always be there to assist.
COWIN E7 PRO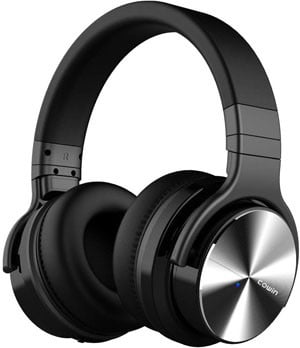 With 45 mm large-aperture drivers, this Cowin model is a little larger than the other Treblab set. They can last 30 hours on their battery, somewhat less time, but they do come in a wider variety of color options. The 800 mAh battery takes 4 hours to fully charge, so it might be something to be done overnight. Bluetooth capabilities allow audiophiles to avoid cords and take music, audiobooks, phone calls on the road. However, these are version 4.0, so they may take longer to connect to the Bluetooth device than the Treblab. The bass range of these headphones is 75dB to 85dB to help create crisper sound, accompanied by noise canceling. While it does say the device cancels background noises like traffic, it does say that talking and external music are usually not masked by the noise canceling. The majority of customer reviews comment on the heightened comfort of this Pro model compared to its predecessor products in the Cowin line. The ear cushions are softer and, while not water resistant, are guaranteed to hold up over time.
WHAT IS MY CHOICE?
Overall, I think these are both great products and would be relatively happy to purchase either. Customers of each brand seem happy with the comfort of the set and sound quality with frequency range. However, the Treblab Z2 stands out here over the Cowin product, in my opinion. Having water resistant materials, a higher quality Bluetooth capability, and longer battery life make it the front runner for an active lifestyle. The stronger noise canceling power of the Treblab make it an obvious choice for me, since the main reason for me to use headphones in the first place is to concentrate the sound while listening. In summary, the choice in favor of Treblab Z2 was based on durability, quality, and longevity.